Annual Health Fair TOMORROW at OCEA
OCEA Health Fair is Tomorrow from 10 a.m. to 1 p.m.
Free food, health screenings and much more.


(Left to right) OCEA Health & Welfare Trust member Lani Nguyen and OCEA Board Members Maria Corona, Pam Waters and Ian Foster were on duty to greet the hundreds of members attending the Health Fair last year. Maria and Pam also serve on the H&W Trust Board.
Dear OCEA member,
OCEA's annual Health Fair, presented by OCEA Health & Welfare Trust, takes place from 10 a.m. to 1 p.m. Tuesday, Sept. 11, 2018, at OCEA. It's a great opportunity to learn about healthy living choices from experts and vendors at dozens of booths.
The Health Fair takes place during open enrollment so OCEA members can obtain in-person assistance with their supplemental coverage options. Make sure to ask about recent plan enhancements for life, disability and PPO A+ dental coverage. We never stop trying to improve benefits for OCEA members. County medical insurance representatives will also be at the Health Fair to answer your health plan questions.
Stay healthy with OCEA and take advantage of the following screenings: Blood pressure, derma scan, bone density, posture, nutrition, grip strength, glucose, BMI, and stress tests. Loosen up with chair massages and chiropractic stretching, speak to a personal trainer, and more. Enjoy our Holistic Lifestyle area featuring aromatherapy, acupuncture, essential oils samplings, nutritional absorption test, yoga body alignment, herbal remedies and more. Check out the event flier below or click here.
Flu shots! Don't forget to bring your Blue Shield, Kaiser or Cigna health insurance cards to get a FREE flu shot.
A free healthy lunch will be served, along with a variety of beverages and tasty grilled zucchini.
If you want to enjoy the OCEA Health Fair, don't forget to ask to use up to two hours of Annual Leave Time to attend.
We'll see you tomorrow!
In solidarity,
Jennifer Beuthin
OCEA General Manager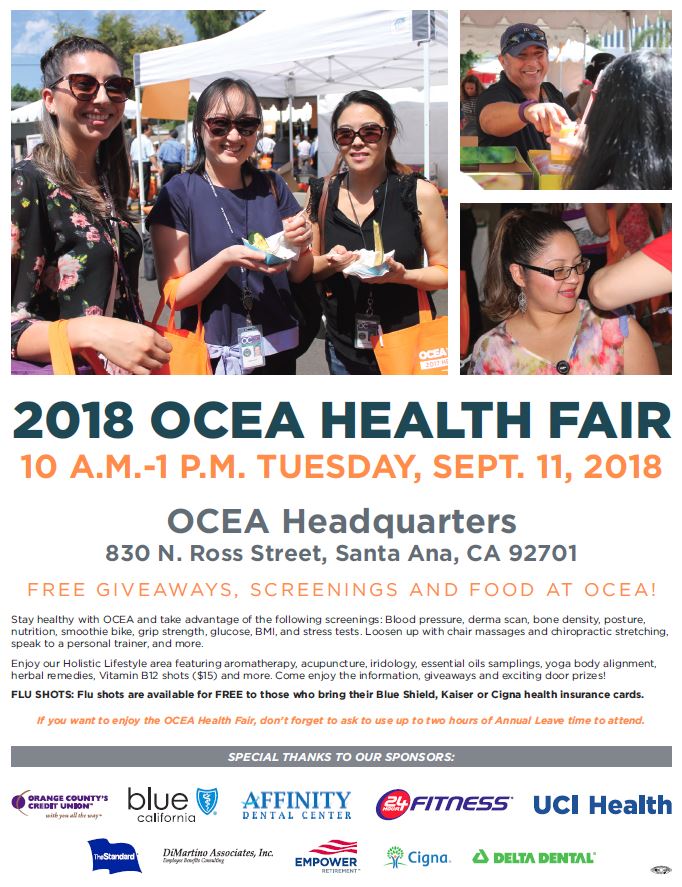 Publication Date: September 10, 2018