Tomorrow! Free "Salute to Veterans" event at the OC Fairgrounds
Dear OCEA member,
Free 2018 Salute to Veterans Celebration
10 a.m.–2 p.m. Saturday, November 10 at the OC Fair & Event Center
88 Fair Drive, Costa Mesa. Parking is Free!
Bring the whole family to our sixth annual free Salute to Veterans Celebration. The lineup includes:
Free hot dogs, chips and water plus discounted beer, burgers and sandwiches (all day)
Bounce house, face painting, crafts for the kids (all day)
Live rock & roll from the 80s with the band Flashback Heart Attack (10:30 a.m. – 1:30 p.m.)
Visit Orange County's first museum honoring veterans, Heroes Hall (all day)
Dozens of booths providing a variety of veterans services (all day)
Military vehicles, gear and re-enactors (all day)
Event attendees get free admission to OC Marketplace until 4 p.m.
SERVICES FOR VETERANS: Community groups and veterans organizations will provide resources including free health screenings for veterans, information about health benefits, family-supporting jobs, counseling, and legal assistance.
FOOD DRIVE: Bring your non-perishable food donations to the event—or—bring eight or more items to OCEA Headquarters before 5 p.m. Friday, Nov. 9 for a chance to win free tickets to the San Diego Zoo. Last year, labor union members and the community collected more than 9 tons of food for veterans and their families. Click here for more information on the food drive or you can scroll down to the fliers below.
CELEBRATE THE 243rd BIRTHDAY OF THE U.S. MARINE CORPS (NOON): Join veterans, their families and the community for a special celebration and cake-cutting in honor of the Marine Corps birthday which falls on Nov. 10.
HEROES HALL "BRAVEMIND EXHIBIT" OPEN ALL DAY: Bravemind is a virtual reality experience created by USC's Institute for Creative Technologies to help treat post-traumatic stress. Experience the exhibit which is also used to prepare our soldiers for what they might encounter when they are deployed.
ABOUT VETERANS + LABOR—PARTNERS IN SERVICE: Too often, our nation's veterans don't receive the support they've earned or the services they need when returning home. In 2013, California's labor unions took the lead to change that on three fronts: providing volunteer service, opening doors to good jobs and holding our annual Veterans Day Celebration.
Community partners for the event include the OC Fair & Event Center and the OC Marketplace. Let's stand together in appreciation of the service and sacrifice of Orange County veterans. Hope to see you there!
In Solidarity,
Orange County Employees Association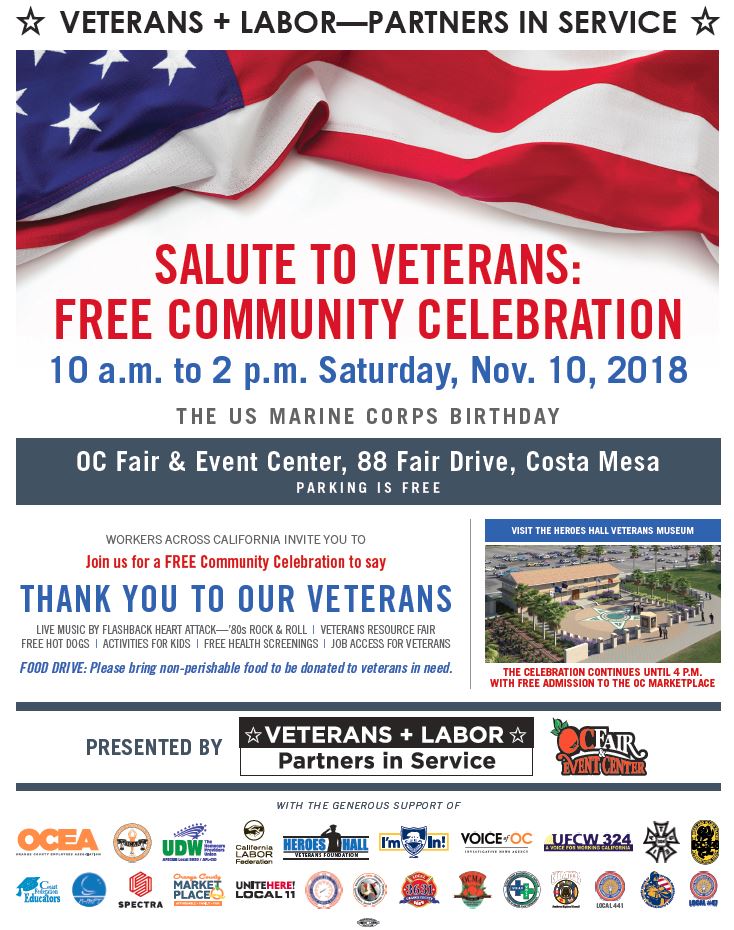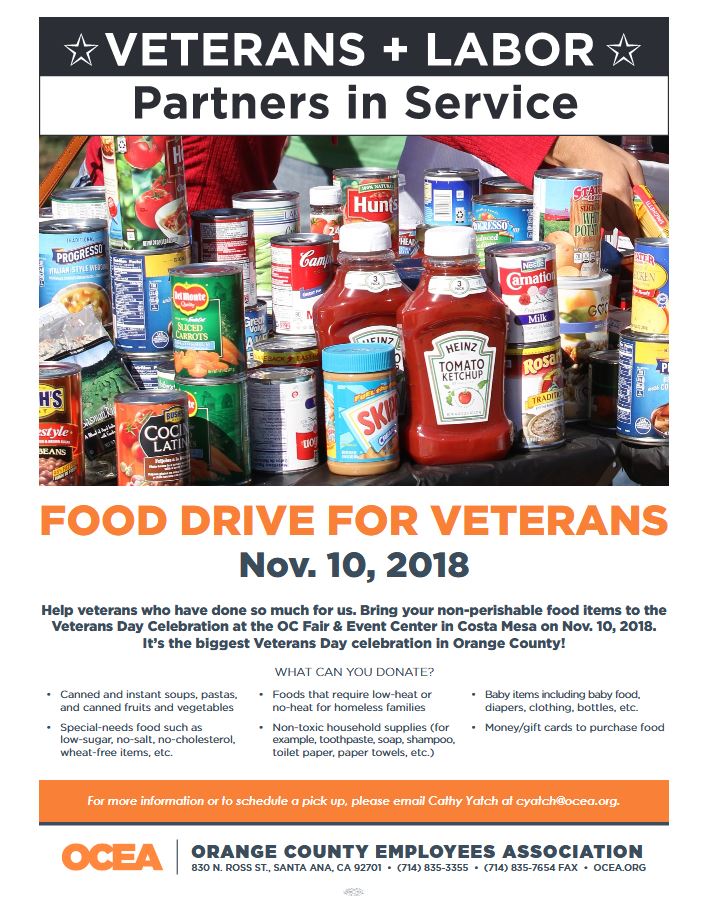 Publication Date: November 9, 2018