Retirees in Action Committee Kickoff - May 13!
OCEA Retiree,
OCEA needs you! What does that mean? In 2017, a retired employee/steward began volunteering two days a week as an "Intern" for OCEA. This sparked a conversation between the OCEA Board of Directors, staff and our workplace leaders about the power retired OCEA members have. Soon after, a steering committee was formed of retired OCEA leaders.
Retired OCEA members have tremendous power that can be of benefit to working people in Orange County. To harness this power, OCEA is restarting our "Retirees in Action" committee.
The purpose of RETIREES IN ACTION is to support the mission and vision of OCEA and bring support to union members throughout Orange County. What are some ways that retired OCEA members can help support OCEA's mission and vision?
Support current workers in bargaining and other advocacy opportunities;
Volunteer for our community events, especially our various Veterans Events, Health Fair, and Holistic Health Fair;
Support Worker actions, such as pickets or rallies;
Participate in phone banks and precinct walks for pro-union political candidates;
Attend local Government meetings, such as the Board of Supervisors to advocate for OCEA members or allies;
Help with the world famous OCEA Hot Dog Wagon!
By joining Retirees in Action, you will be joining an amazing group of committed individuals who dedicated their life to making Orange County great. Committee members will have access to exclusive events and be part of something that gives back. We are excited to get to work!
You have knowledge, you have commitment and most of all, you have passion. Please join us so that we can forge a path together that will benefit all workers in Orange County, future retirees, current retirees and the community as a whole. We need you.
Please join us on from Noon-1 p.m. Monday, May 13 at OCEA for our kick-off meeting!
Please RSVP to Alisha at agreene@ocea.org or by calling (714) 835-3355 so we can plan accordingly.
Sincerely,
Your Retirees in Action Steering Committee
Michael Manchester, Retired Senior Social Worker
Coach Bennett, Retired Correctional Programs Tech
Pam Waters, Retired Library Secretary
Bill Daher, Retired Forensic Scientist
Carlos Rosales, OCEA Lead Organizer
Alisha Greene, OCEA Organizer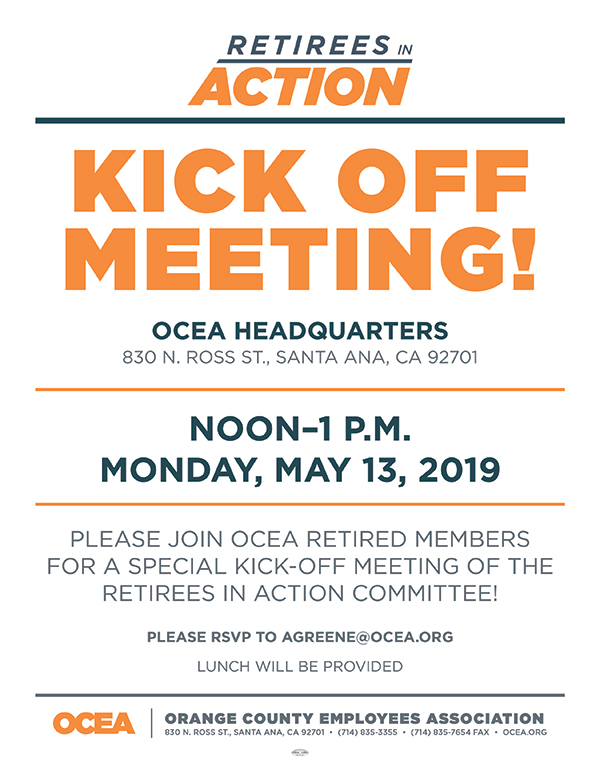 Publication Date: April 29, 2019