Vote for Chris Prevatt to protect your retirement security
Dear OCEA member,
There is only ONE candidate for OCERS Board that has a proven track record of fighting for members. Vote for Chris Prevatt to protect your retirement security.
Chris has served on the OCERS board since 2012 and has been a fierce advocate for all OCEA members. Here are some of the ways Chris has fought for your retirement security and earned the endorsement of his OCEA co-workers for re-election:
Successfully fought attempts to needlessly increase your pension costs
Established consistent and transparent rules governing how the OCERS Board handles policies that could drive up costs
Eliminated anti-pension political interference by reforming the process for determining disability retirement
Served as Chairman of several committees including Governance, Investment, and Investment Manager Monitoring
Currently serves as 2018 Chairman of the OCERS Board
Chris fought back against anti-pension politicians who falsely downgraded OCERS investment earnings which increases your costs. Chris stood up to Orange County Supervisors who made these claims knowing the County would pay 100-percent of their pension costs. Read the story here.
Chris fought to lower pension costs for general members by reviewing a previous OCERS Board vote to downgrade earnings. Read the story here.
You can also hear from Chris in this short video. Vote Chris Prevatt for OCERS Board! He has the experience and the tenacity to fight for ALL members.
To vote for Chris, follow the steps on the flyer below. Ballots must be received by 9 a.m. Oct. 30 at so don't wait. Cast your ballot TODAY! No postage is required. You can also drop your ballot in the PONY mail, or at OCEA! Contact us for more information at (714) 835-3355.
In Solidarity,
Orange County Employees Association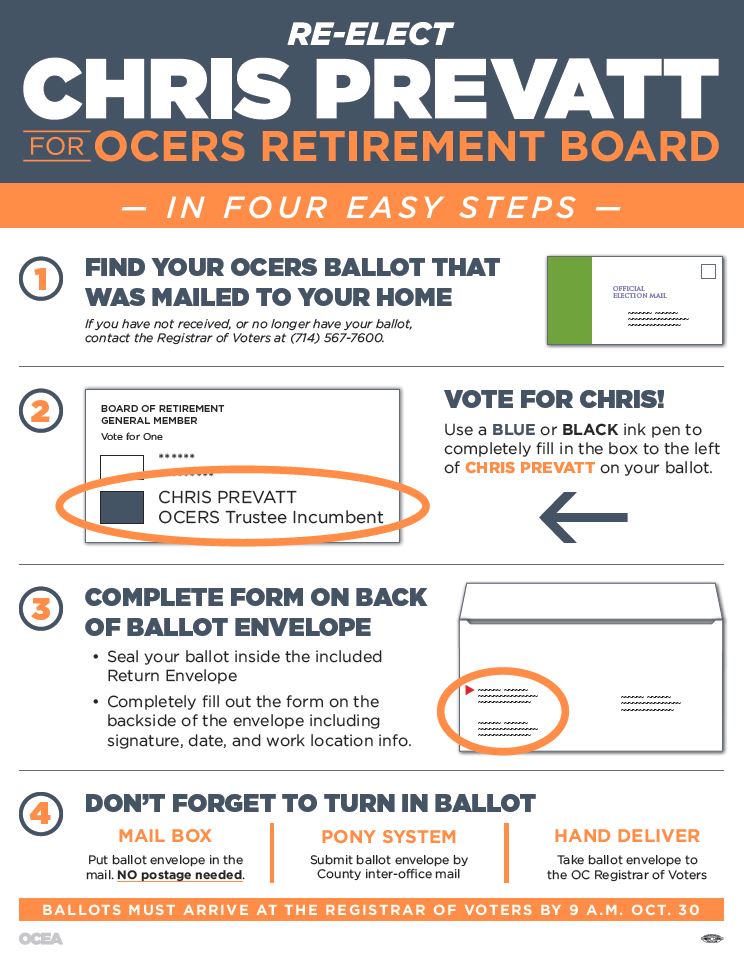 Publication Date: October 9, 2018