Your OCERS ballot!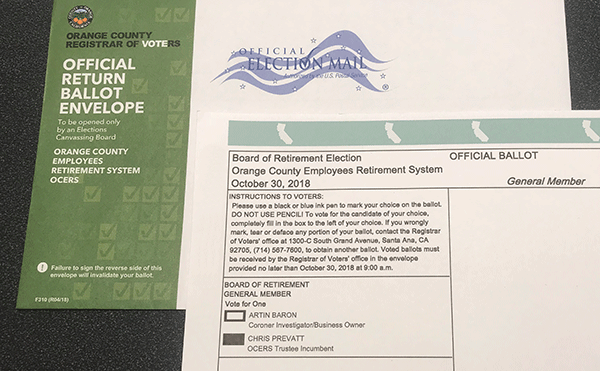 OCEA member,
By now you should have received your ballot to vote in the 2018 OCERS general election. If you are eligible to vote and did not receive a ballot, contact the Registrar of Voters at (714) 567-7600. OCEA strongly endorses OCEA member Chris Prevatt for OCERS trustee. Chris works for the Health Care Agency as a Program Supervisor, serves as an OCEA Steward, and is a valued member of the OCEA Board of Directors. Chris is our endorsed candidate because he will fight for all members to ensure we have a sustainable retirement. How do we know that? Because as an OCERS Board member, he has demonstrated every day that he looks out for the interests of all general members.
Take time today to cast your vote for Chris Prevatt! All ballots must be returned to the Registrar of Voters no later than 9 a.m. on Tuesday, Oct. 30. Your OCERS ballot comes with an envelope and you can drop that in the mail or you can bring it to work and mail it through the County PONY system.
Protect your retirement. Vote for the candidate who stands for ALL workers, not just a select few. Re-elect CHRIS PREVATT!
Lezlee Neebe
OCEA President
Publication Date: September 26, 2018