March with OCEA at the OC Women's March Saturday, Jan. 18, 2020
Dear OCEA member,
March with your co-workers Saturday, Jan. 18 in the fourth annual OC Women's March. Since the first march in 2017, OCEA has joined thousands of women, men, and families as they peacefully took to the streets in downtown Santa Ana making our voices heard on issues affecting our members. OCEA, along with diverse community groups and our Labor sisters and brothers, marched under the principle that women's rights play a large role in the workplace and that equality makes Orange County a more safe, fair and supportive community.
This year, OCEA members will march to make our voices heard demanding an end to a persistent gender pay gap, the discrimination women face in the workplace and sexual harassment on the job. The theme of this year's march is "March today. Vote tomorrow." After winning the hard fight to make democracy more accessible for all in Orange County with Vote Centers, we must use this power to create change in our community. We march to show that working families will show up and vote for candidates that support them in this year's elections. We march to show that we will not rest until equality is achieved in the workplace. We also march to show that when we come together as a community, we are strong and can make lasting change for social and economic justice.
If you would like to join other OCEA members and their families who will march together, please plan to meet between 8 – 9 a.m. on Saturday, January 18 at OCEA for some light refreshments before we march. Everyone is welcome to attend and we encourage you to bring your friends and family to march with us! The downtown area will be very busy Saturday morning and parking at OCEA will be available on a first-come, first-served basis. We will also be hosting a poster-making party on Tuesday, Jan. 14 from 5:30 – 7 p.m. at OCEA. We will have the supplies, you bring your creative ideas! To confirm your spot for either the poster-making party or the march, please RSVP to RSVP@ocea.org. Check out the flyer below for more details.
It's an honor and a privilege for me to march with you on January 18.
In Solidarity,
Charles Barfield
OCEA General Manager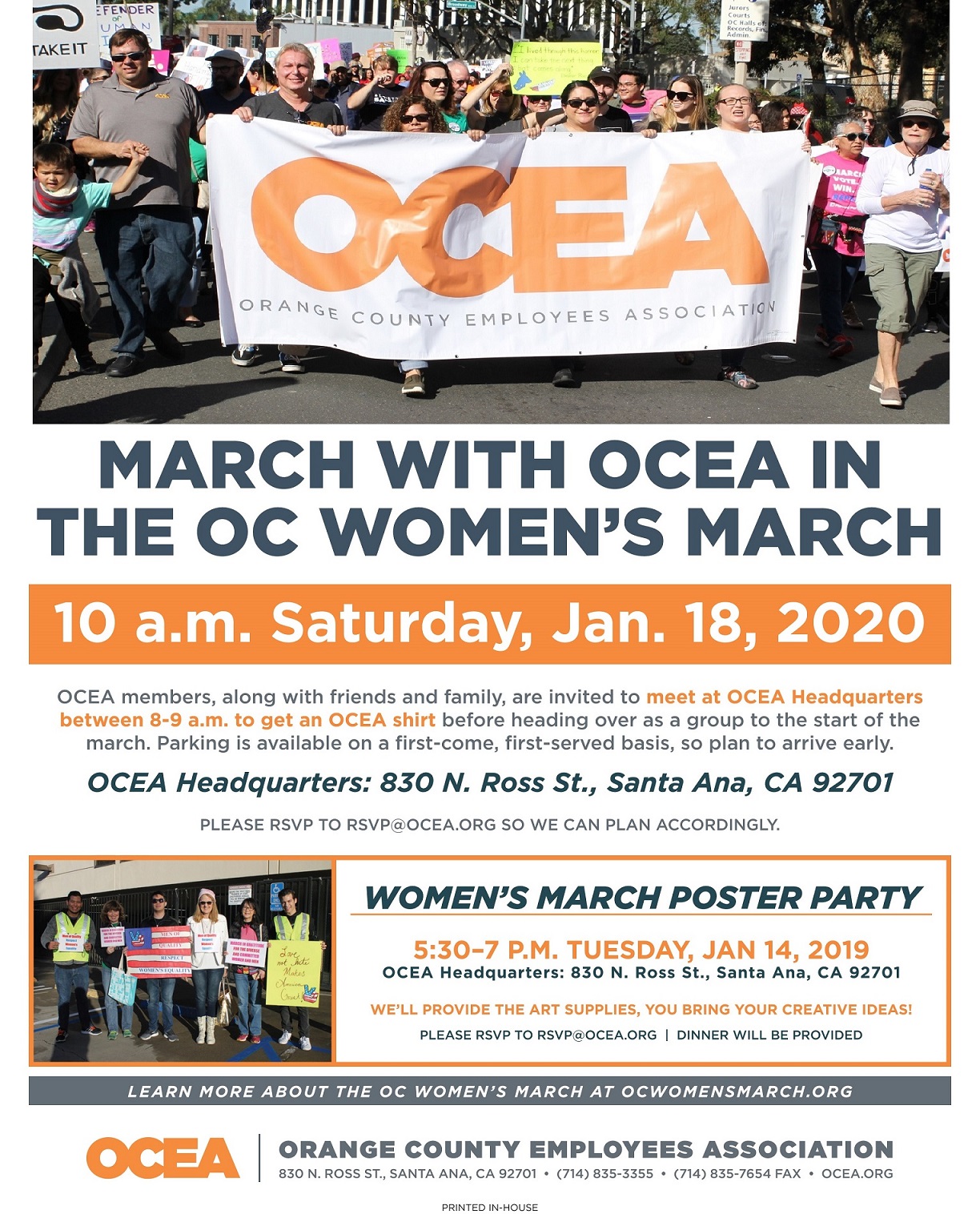 Publication Date: January 7, 2020