Calendar
OCEA's calendar of events includes information about seminars and programs available exclusively to OCEA members, as well as union meetings and community gatherings where members can get involved.
PRINTABLE 2023 COUNTY CALENDAR PRINTABLE 2023 COURT CALENDAR

OCEA Board Meeting
March 21, 2023 | 1:30 p.m. | OCEA Assembly Room
Monthly Board meeting

OCEA Steward 101 Training
March 23, 2023 | Noon–1 p.m. and 5:30–6:30 p.m. | Zoom
Our Steward 101 Training gives new stewards an opportunity to get introduced to OCEA. They learn the structure of OCEA and their role as a Steward in their workplace.

OCEA Steward Development Committee
March 27, 2023 | 5:30 p.m. | OCEA Headquarters & Zoom (hybrid)
The OCEA Steward Development is group that oversees the overall direction of the OCEA Steward program by guiding improvements, ideas to develop potential stewards, and encourage participation of OCEA's current workplace leaders.

Superior Court Steward Meeting
March 28, 2023 | Noon–1 p.m. | OCEA Assembly Room & Zoom (hybrid)
Monthly meeting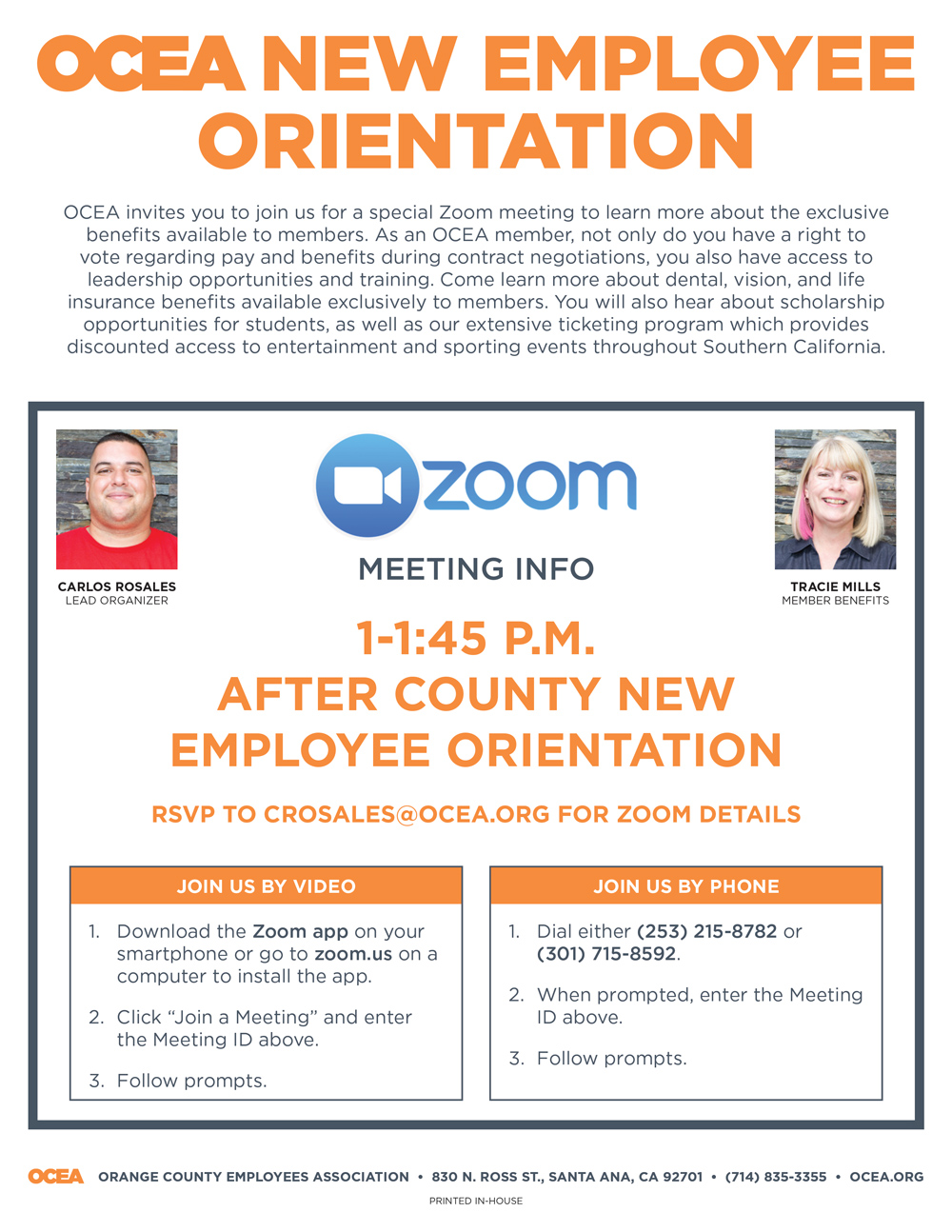 County New Employee Orientation
April 3, 2023 | Noon–1 p.m. | Zoom
OCEA invites you to join us for a special Zoom meeting to learn more about the exclusive benefits available to members. As an OCEA member, not only do you have a right to vote regarding pay and benefits during contract negotiations, you also have access to leadership opportunities and training. Come learn more about dental, vision, and life insurance benefits available exclusively to members. You will also hear about scholarship opportunities for students, as well as our extensive ticketing program which provides discounted access to entertainment and sporting events throughout Southern California.
VIEW FLIER

OCEA Political Action Committee Meeting
April 10, 2023 | 5:30 p.m. | OCEA Assembly Room
Monthly meeting

OCEA Board Meeting
April 18, 2023 | 1:30 p.m. | OCEA Assembly Room
Monthly Board meeting

Velece Insurance Board Meeting
April 18, 2023 | 12:30 p.m. | OCEA Board Room
Monthly Board meeting

OCEA Steward Meeting
April 20, 2023 | Noon–1 p.m. and 5:30–6:30 p.m. | OCEA Assembly Room & Zoom (hybrid)
Monthly Steward meeting

Superior Court Steward Meeting
April 25, 2023 | Noon–1 p.m. | OCEA Assembly Room & Zoom (hybrid)
Monthly meeting