Former OC Sheriff Sandra Hutchens dies at 65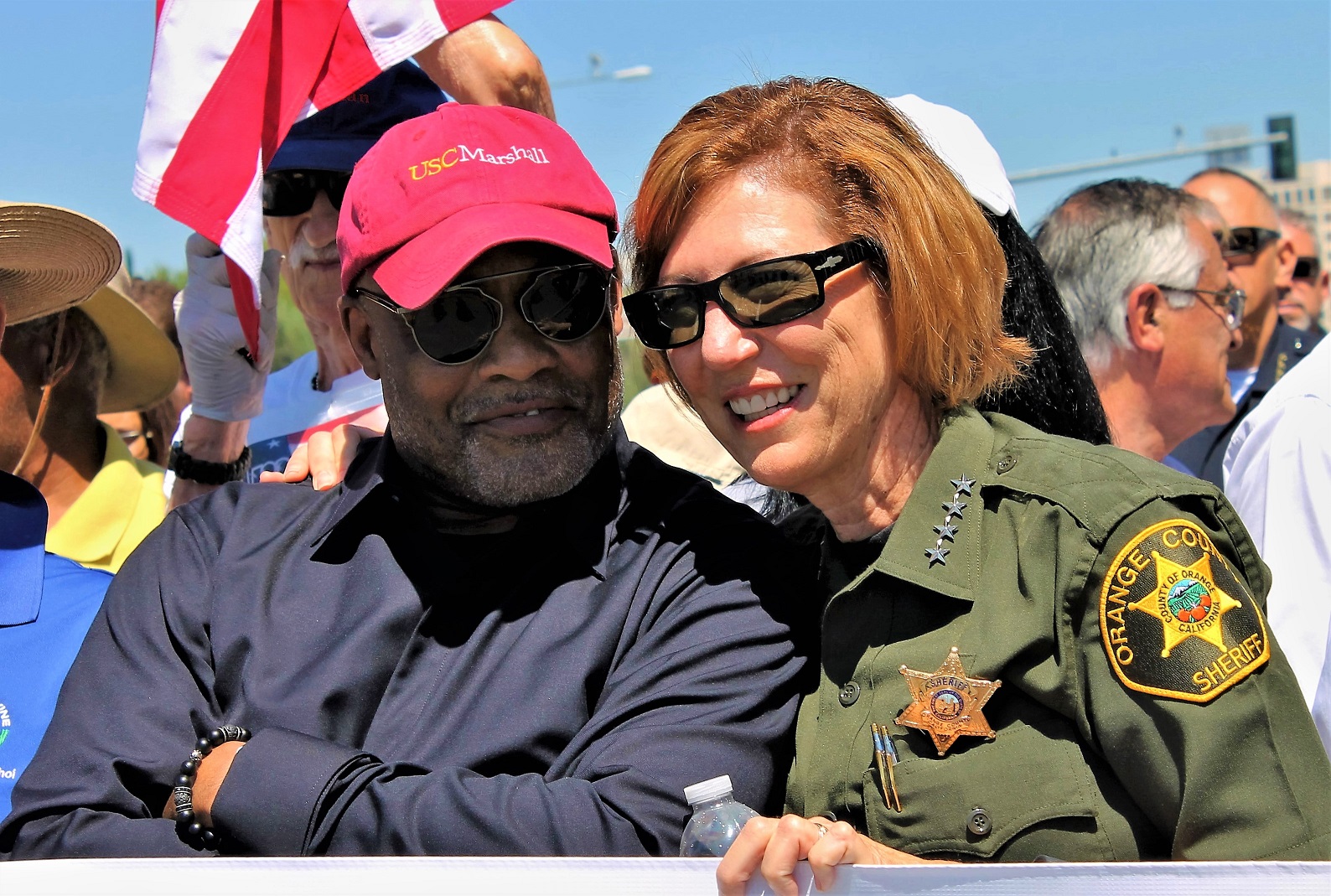 Former OC Sheriff Sandra Hutchens at a 2016 march with Pastor Mark Whitlock of Christ Our Redeemer Church, Irvine.
Dear OCEA member,
It is with deep sadness that we mark the death of former Orange County Sheriff Sandra Hutchens. She died of cancer yesterday after an eight-year recurring battle with the disease.
Throughout her almost forty years in law enforcement, which began at the Los Angeles County Sheriff's Office in 1978, Hutchens was many times the "only woman in the room" in a profession still dominated by men. She became the first woman to wear the badge of sheriff in Orange County and took over during a turbulent period in the department's history.
Hutchens was appointed in 2008 months after the resignation of Sheriff Mike Carona. She went on to win election as Sheriff-Coroner in 2010, and 2014. She retired in 2017. Sheriff Hutchens proved to be a stabilizing force at the department and remained proud of her work developing the Sheriff's Interfaith Advisory Council. "It really brought the faith communities together — and the OC GRIP, which is just such a success," Hutchens said. GRIP stands for Gang Reduction Intervention Partnership.
Sandra Hutchens was law enforcement through-and-through. After joining the LA County Sheriff's Office, she began a steady climb through the ranks of the agency, the largest in the U.S. She retired in 2008 as a Division Chief after a 30-year career. Hutchens did not stay "retired" for long and was appointed Sheriff-Coroner of Orange County after a nation-wide search.
Sheriff Hutchens remained on duty after a breast cancer diagnosis in 2012. Her battle against the disease was courageous and her devotion to duty commendable and inspiring.
She is survived by her husband Larry, also a retired law enforcement executive. She was 65.
In Solidarity,
Charles Barfield
OCEA General Manager
Publication Date: January 5, 2021