Laguna Niguel Negotiations Update: March 14, 2024
OCEA member,
Last month you received an update regarding the City Manager and negotiations. We are very pleased to report that, as you are probably aware, the City Council did retain the City Manager. At the subsequent meeting Mayor Rains resigned her post. The Council has selected Kelly Jennings to serve as the new Mayor. Fortunately, the shuffling of City Council members does not seem to have introduced any unnecessary uncertainty into our upcoming negotiations. Thank you to everyone who turned out to show support for good governance and stability!
The OCEA team will meet with the City today for a Financial Presentation and to discuss parameters of negotiations. We will then formally begin exchanging proposals in the coming weeks.
The leadership team will finalize the 2023 negotiations proposals later this week. The proposals will be informed by: (1) your input in the 2023 Negotiations Survey; (2) our public sector market analysis; (3) inflation data and recessionary indicators; and (4) the relative economic health of the City.
Make no mistake about it, the number one priority of your leadership committee is to secure meaningful wage increases for OCEA members!  We anticipate beginning negotiations shortly, and after each session we will communicate to you with a recap of the session. If you need additional training on the negotiations process, you can see a brief overview of the process HERE or a more comprehensive overview HERE.
If you know someone who needs to sign up for OCEA emails, please CLICK HERE.
To opt-in to text messages, text the word LNOCEA to the number 43506.
In Solidarity,
OCEA Laguna Niguel Leadership Committee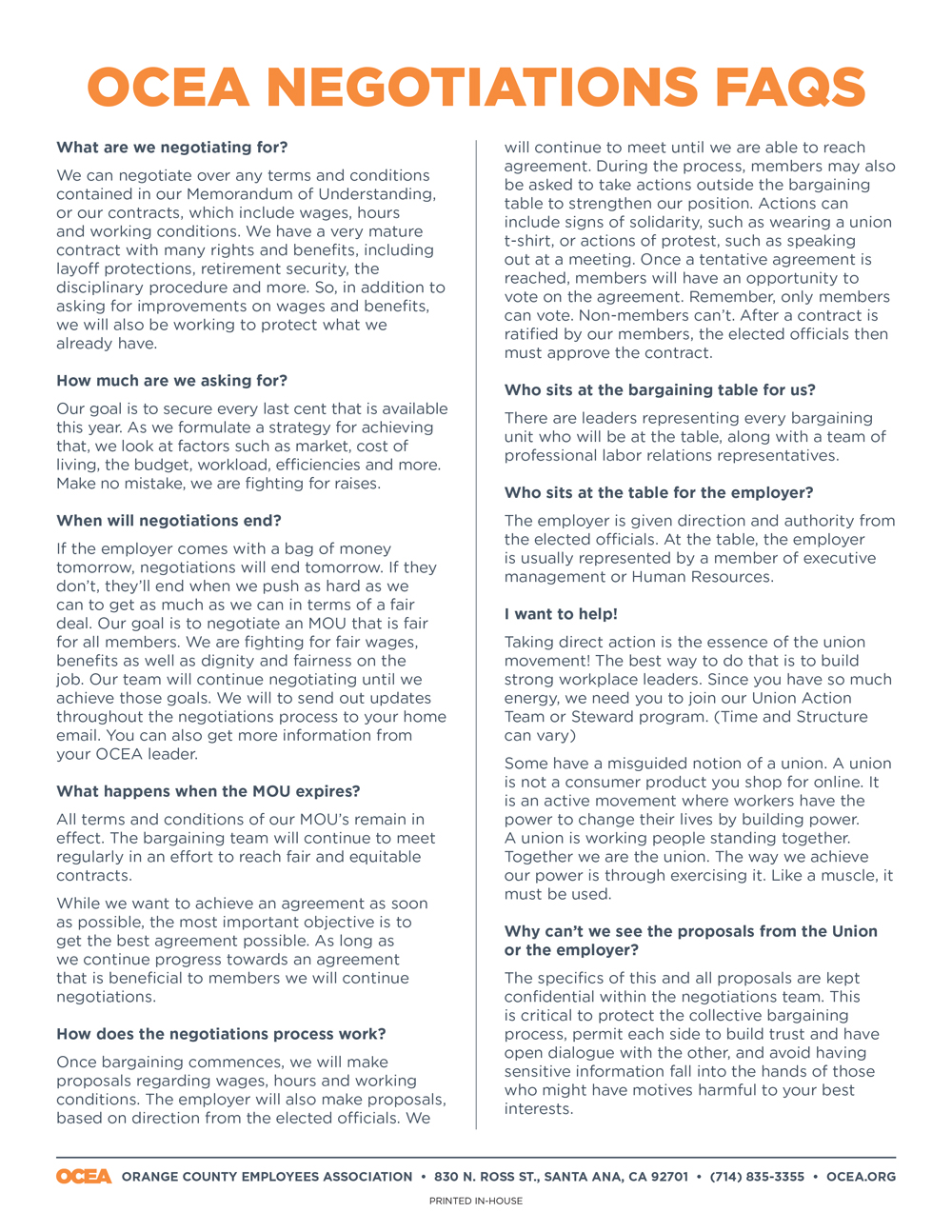 Publication Date: March 14, 2023