OCEA Good News Gazette: Vol. 2
WELCOME TO THE SECOND INSTALLMENT OF THE
OCEA GOOD NEWS GAZETTE!
This is our place to highlight OCEA members, our work in the labor movement, news and events. If you have good news to share, please email OCEA Communications Director Niyaz Pirani at npirani@ocea.org. You could see your story here or on our social media soon! Click here to follow us on InstagramTikTok and Facebook.
---
SUMMER INTERNS FIRED UP FOR HOT LABOR SUMMER AT OCEA!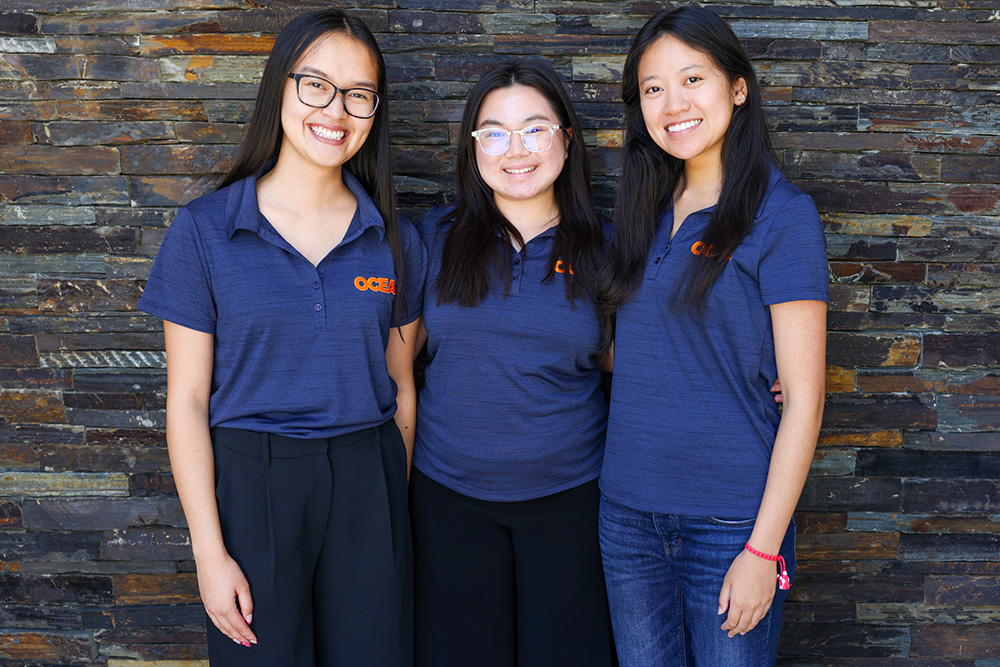 Joining OCEA this summer are three interns from the brand new UCI Labor Center which opened in May at the University of California, Irvine. Legal Intern Allysa Suhaidi, Organizing Intern Thi Le, and Research Intern Michelle Truong—all Orange County residents—have begun a full immersion into work at OCEA and the Orange County labor movement as a whole.
Allysa, who "worked at a big law firm, and a public company, but wanted to do something that was more public-interest focused this summer," attends UC Irvine Law School where she is in her last year. Thi, also in her last year, is an Urban Studies major who "started to learn more about politics and the world outside of (her) bubble, but didn't really get a full understanding until (she) went to university and started learning about the overlap of social justice and urban planning." Michelle, who has experience in political campaign work and
just graduated with a degree in Political Science, will soon return to earn her Masters Degree in Philosophy, Political Science & Economics—an all-encompassing coursework known as PPE at UCI.
Though the group joined OCEA in the last week of June, the 8-week internship started a week earlier with a multi-day training about the labor movement at UC Berkeley in Northern California. Allysa & Michelle were in the Research Track where they learned opposition research and how unions achieve policy and legislative wins, along with panels from current labor movement researchers. Thi was in the Organizing Track, where she learned public sector union organizing techniques, strategies, big-wall charting, one-on-one conversation structure, and the semantics of organizing.
"It's been very different from any job or internship I've had before, mainly because, while everyone has their individual agency or department, everyone works so seamlessly together to accomplish the same goal," Michelle said.
Their first month of activities in the office have included: sitting in on investigations; conducting contract votes for Brea City Employees Association; calling members to solicit safety concerns in our ongoing Orangewood campaign; working with members in Laguna Niguel; attending the Medieval Times Strikes; meeting the Board of Supervisors and County CEO Frank Kim; receiving training on the MOU, negotiations and more; touring the OC Animal Shelter; attending labor rallies; and distributing lunch at OCEA Hot Doggers.
"I think people are able to connect more here," Allysa said.
"It's cool to see how OCEA has so many branches, and all of the connections and people it serves," Thi added. "Here there's constantly goals being made, there's an ebb and flow to the workplace. An emotion. It makes me feel like I'm actually making a difference."
---
OCEA BOARD OF DIRECTORS AWARDS 2023 SCHOLARSHIPS!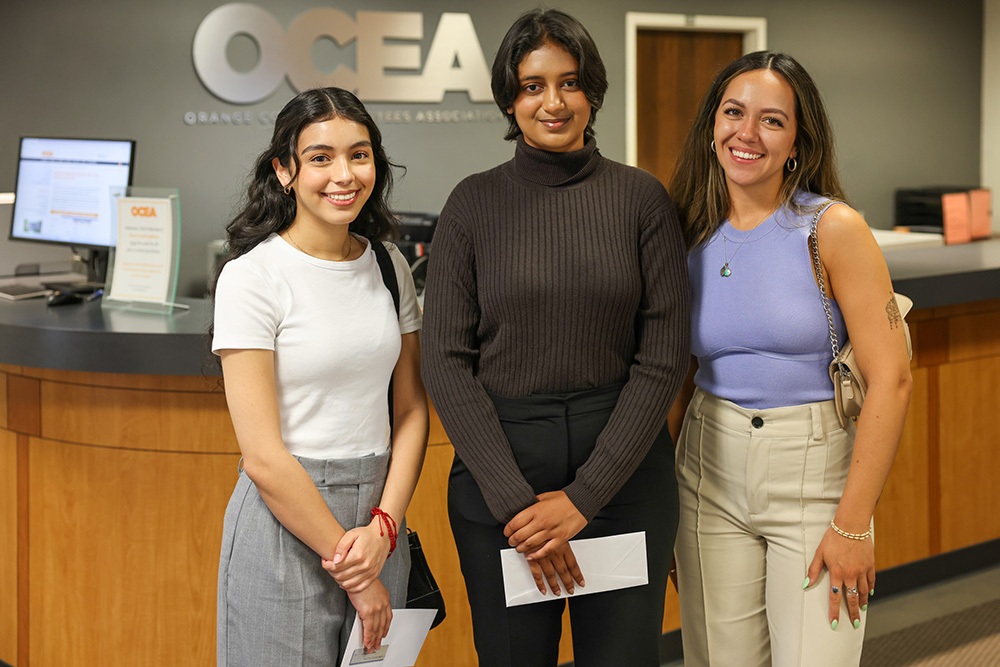 Students Emily Guillen, Nishtha Kumar, and Johanna Montesinos were selected from nearly 50 applicants as the recipients of the 2023 OCEA Board of Directors Scholarship at the July Board meeting. These scholarships—increased from $2,000 to $2,500 per recipient to help against the rising cost of education—have been given this year to 3 women who have something in common aside from their parents being OCEA members: they all have an interest in mental health and pursing degrees in connected fields.
Emily Guillen
Emily attends Chapman University where she is part of the Honors Program and is on the Provost List. She has also won the President's Education Award and a silver Community Service Award. She is a psychology major and plans to pursue a Doctorate in Psychology, with the goal of becoming a Child Psychologist.
"Through my educational experience, I am committed to further the interests of working men and women by becoming an advocate and leader for others," she wrote in her application. "With my educational experience, I would advocate for making psychological health more accessible to working families, especially those in underprivileged communities."
Emily's dad David is a Warehouse Worker III for Probation and has been an OCEA member for 18 years.
Nishtha Kumar
Nishtha is headed to the University of Washington where she will study neuroscience and pursue a medical career. She has been involved with student clubs, volunteer efforts, internships, and she sings AND has a first-degree black belt in taekwondo.
"I plan to conduct research and implement evidence-based interventions to identify and mitigate occupational stressors that burden working individuals," she wrote. "By collaborating with labor unions, employers, and policymakers, I aspire to create supportive work environments that promote mental health. My ultimate goal is to reduce stress-related illnesses, enhance job satisfaction, and increase overall productivity."
Nishtha's mom Priya works for County IT supporting OC Public Works and has been an OCEA member for 7 years.
Johanna Montesinos
Johanna attends Cal State Northridge where she's working toward becoming a Marriage and Family Therapist. She wants to pursue a career helping people undergoing abuse and other challenging and traumatic life experiences.
"As a therapist, I can empower individuals to develop healthier coping mechanisms, enhance relationship dynamics, and foster a supportive and nurturing family dynamic … to guide families toward greater resilience, effective problem-solving, and improved overall well-being to support working men, women, and their families."
Johanna's mom Adriana started with the County in 2007, working her way up from Office Technician to Eligibility Technician to Social Services Supervisor I at SSA. She has been an OCEA member since 2018.
We wish all three the best as they pursue their education and embark on their career paths!

---
FULLERTON MURAL PROJECT MOVES FORWARD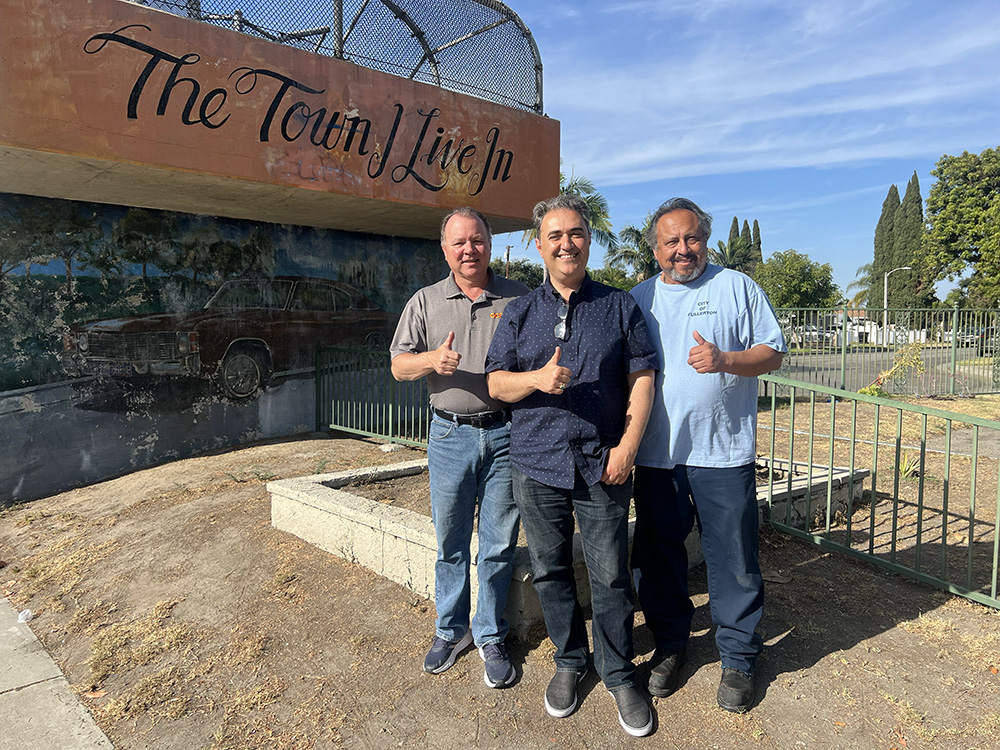 OCEA's Board of Directors approved a $1,000 donation in 2022 to the City of Fullerton for a mural restoration project spearheaded by Council Member Ahmad Zahra, and now work on that mural is moving forward.
Local artist Andrew Stirdivant will begin work on the "Town I Live In" and "Low Rider Car" murals this month.
"I'm very grateful to … Orange County Employees Association on behalf of our city workers represented by General Manager Charles Barfield & Fullerton Municipal Employees Federation President Ed Vargas for (the donation). … I met with all reps at the mural and explained their history and significance to our community, especially to our Mexican/Chicano local culture," Council Member Zahra wrote in an Instagram post.
We'll share photos of the complete murals when work is done!
Publication Date: July 26, 2023