Voting continues through Thursday, Oct. 31 at 5 p.m.
Dear OCEA member,
As an OCEA member you can vote on your Tentative Agreement with the Court by clicking HERE. Voting will continue until 5 p.m. Thursday, Oct. 31. You can also vote in person at OCEA.
I want to thank the OCEA members who attended our membership meetings yesterday at OCEA. Based on some questions and comments at those meetings, I want to clarify a few things about the tentative agreement so you can base your vote on accurate facts.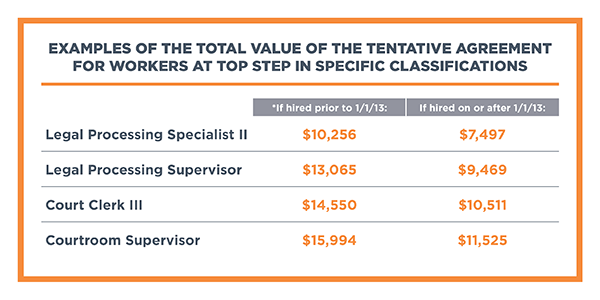 * Your hire date is significant because of a state law that took effect on Jan. 1, 2013 setting limits on pension benefits for public employees. The Public Employees Pension Reform Act (PEPRA) also established minimum contributions by employees to their pension plans. Court workers hired prior to that date pay a higher pension contribution rate, a portion of which will now be paid by the Court pursuant to the tentative agreement.
VALUE OF THE REVERSE PICKUP REDUCTION FOR WORKERS HIRED PRIOR TO 1/1/13
Any reduction to the reverse pickup means an increase to your net pay. The tentative agreement contains two reductions—the first, effective upon ratification, is 1.291% of your ENTIRE SALARY—that means a 1.291% increase to your take-home pay. For a worker who earns a $65,000 salary, that equals an $839 annual pay increase! The second, effective July 2, 2021, is another 1% of your ENTIRE SALARY, a $650 annual pay increase for an employee who earns $65,000. (Workers hired on or after 1/1/13 (PEPRA workers) do not pay any reverse pickup.)
DATE FIRST INCREASES APPEAR ON YOUR PAYCHECK IF YOUR BARGAINING UNIT RATIFIES THE TENTATIVE AGREEMENT
Base wage increases, pay increases due to the first reverse pickup reduction, and the $1,000 lump sum payment will appear on the paycheck you receive on Wednesday, Nov. 27, 2019.
WHAT HAPPENS IF YOUR BARGAINING UNIT DOESN'T RATIFY THE TENTATIVE AGREEMENT
None of the contract terms go into effect. Next steps could include a return to the bargaining table where we would start from scratch. Mediation may be an option though state law allows any public employer in California the ability to impose a settlement made at the employer's discretion. The Court has informed OCEA that it will NOT unilaterally implement any improvements to the contract. We will of course consult with OCEA member workplace leaders about other possible next steps.
I strongly believe your OCEA bargaining team obtained the very best agreement possible and together with them encourage you to vote YES to ratify the tentative agreement.
In Solidarity,
Charles Barfield, OCEA General Manager
Lead Negotiator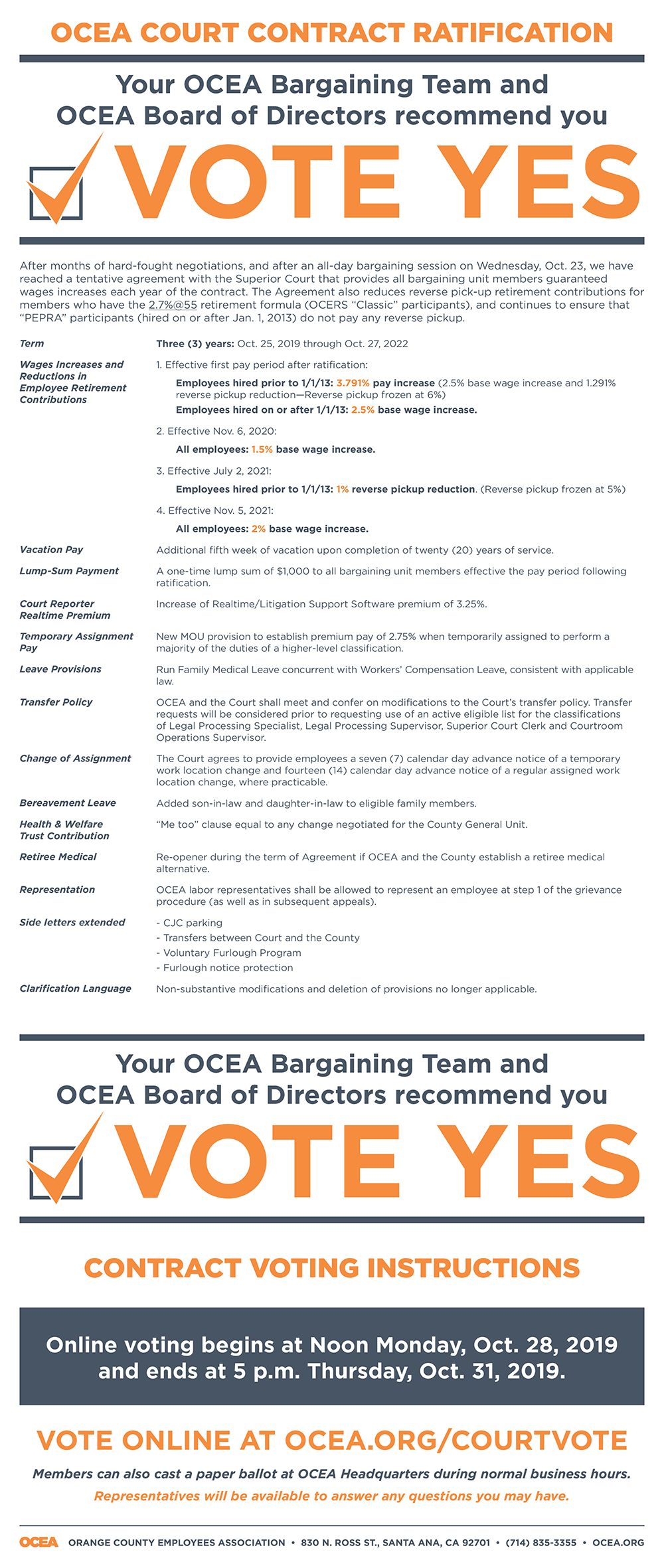 Publication Date: October 29, 2019